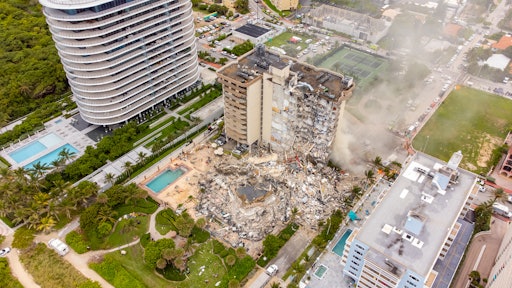 Seen in the above image is the 18-story residential building named "87 Park." A height restriction for Surfside limits buildings to 12 stories, however, 87 Park is just across the border in Miami Beach. According to a June 30 article by Casey Tolan of CNN, residents of Champlain would complain of shaking during the construction of 87 Park. No evidence that the building's construction (2016-2019) contributed to the collapse.
AllConstructionChemicals.com has compiled all of the information available on Miami's Champlain Towers South Condo Building collapse to provide you with all details.
One of the most dramatic and tragic stories of the year is the collapse of Miami's Champlain South Condo Building. AllConstructionChemicals.com is compiling all of the relevant information to give you an all-encompassing view of the story.
July 1, 2018: 18 confirmed deceased; No cause has been established.
What You Can Do
According to the New York Times report, residents of the Champlain Towers Condo Building, Miami, Fla., were awakened by fire alarms and debris at around 1:30 AM. Giulia Heyward and Richard Fausset interviewed Bruno Treptow, who lived on the eighth floor. Half of the building was destroyed in the collapse, with Treptow's home at the end. He was quoted as saying that "The hallway's gone."
The Champlain Towers South Condo building, 13 stories high, housed 136 units and had a garage underneath. It was constructed in 1981. The condominium's website describes the building as being located steps from the Atlantic Ocean. It featured a pool deck, access to a sandy beach and "year-round ocean breezes." The location is located on Surfside, north of Miami Beach. It's on a peninsula/island between the Atlantic ocean and Biscayne bay.
ABC News reported that 55 condominiums in the building were destroyed.
The units were made up of one, two, and three-bedroom floor plans that ranged from 1,200 ft.2 – 4,500 ft.2. Curt Anderson, of the Associated Press, reported that board members claimed the building was in "very good condition" as per the AP's minutes released on Monday, June 28th, 2021. The AP report revealed documents that did not show any evidence that the concrete structure work had been completed. Residents were told that they would have to pay their fair share of the multimillion-dollar assessment by July 1.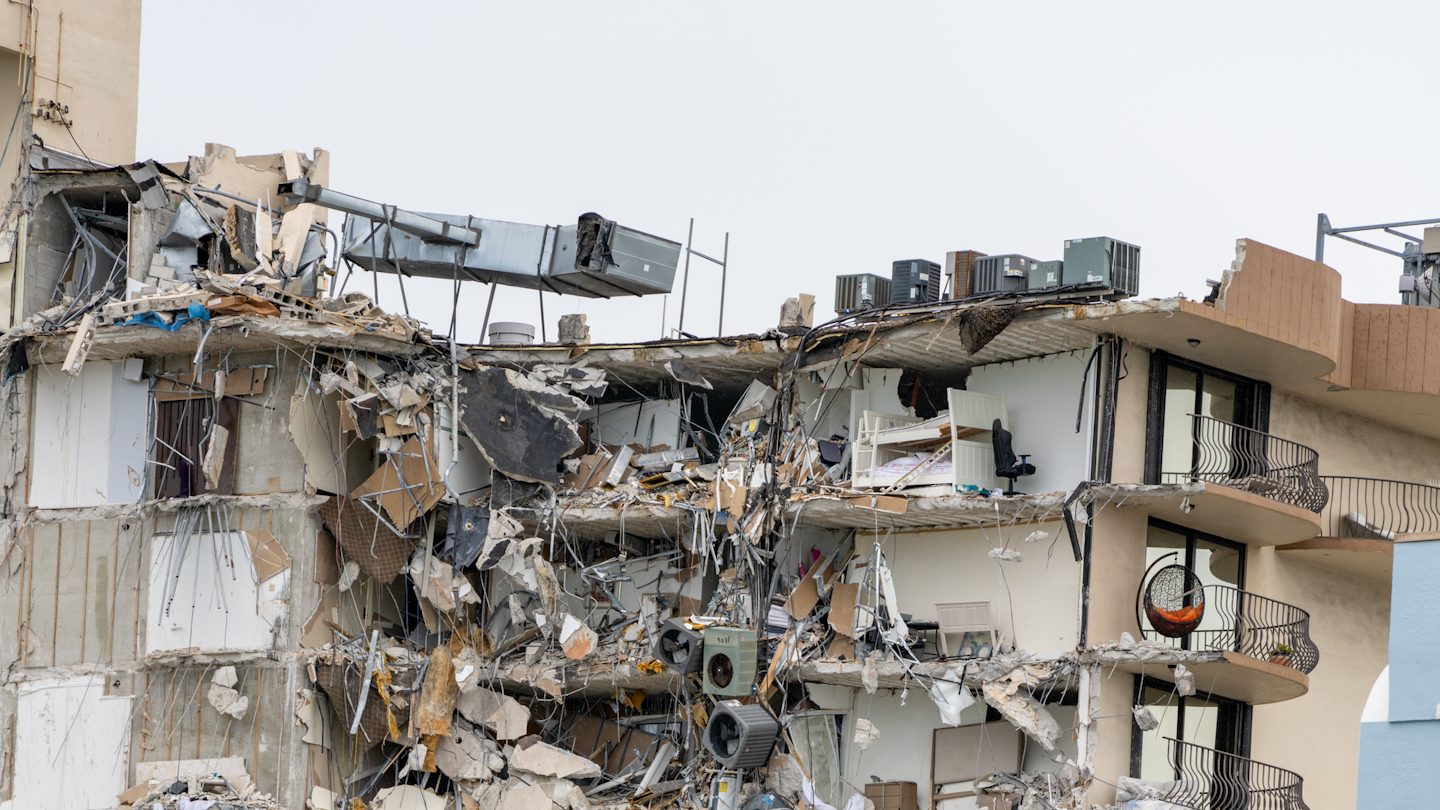 The building's south tower collapsed in an unprecedented event on Thursday, June 24, 2021. Robert Frosch is a professor of civil engineering at Purdue University and senior associate dean for engineering facilities and operations. He describes the disaster as a "progressive collapsing," much like what happened to the World Trade Center.
Frosch explained that when a floor falls, its weight doubles the floor beneath it. This type of failure is very rare. This type of failure is very rare. We have provisions in our building code to reduce the risk.
According to the Miami Herald, Rosendo Prieto was the former top-ranking official for Surfside. He took a "leave" on June 28. Although it is not confirmed that the decision was made voluntary, it is believed to be true. According to Prieto, he had allegedly reviewed the 2018 inspection report. He informed residents that the building seemed to be in "very good shape." According to the Miami Herald article, this statement was made one month after the October 2018 inspection report.
However, Prieto denied receiving the report. He was last at Surfside in November 2020, and was reassigned in May to Doral.
Rescue
The Miami Herald reported Tuesday, June 29 that three millions pounds of concrete had been removed from this site. Alan Cominsky, the Miami-Dade Fire Chief, has stated that rescue workers won't be returning to the collapsed west section because it is too dangerous. The same danger exists on the eastern side.
Unmanned rescuers used technologies such as infrared, search-and-rescue dogs, cameras, sonar and robotics to find "small voids and crevices" in the rubble. Officials said that while it doesn't necessarily mean survivors will be located, they are exploring all options to find them. Many of these technologies are very similar to the ones used in mass shootings and the World Trade Center.
ABC News reported that the situation was "not ideal" and "not bad" for rescuers. Levine Cava informs ABC News that search and rescue operations continue round the clock. However, the structure remaining is considered unstable. The remaining structure is not being entered by crews.
In a press conference held on June 29, Charles Burkett, Surfside Mayor, stated that "Nobody is giving in here." No one is giving up. We will get everyone out of this pile of rubble.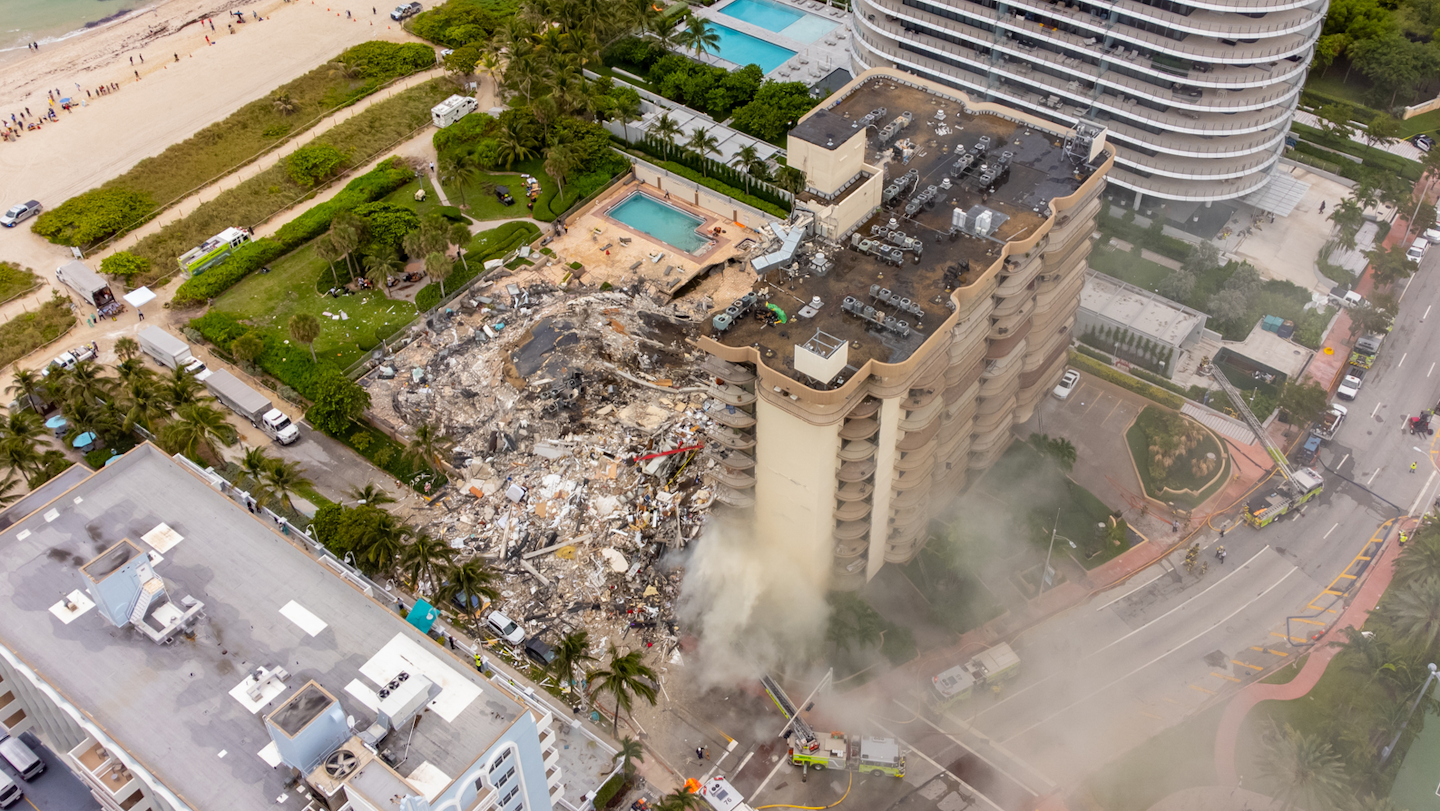 The Big Question: Why did this happen?
Although investigations continue, it is likely that it will take many years to determine the cause. But New York Times journalists Mike Baker, Sophie Kasakove and Christopher Flavelle reported that documents were released by the town that indicated that an engineer consultant had noted "major structural damages" to the concrete slab beneath the pool deck. He also observed "abundant cracking and crumbling of columns, beams and walls in the garage. The report was completed in 2018, and work was reportedly underway to fix the problem.
The Morabito Consultants report has been published online . It's no surprise that there are many accounts of cracking and waterproofing problems in concrete slab edges of balconies due to their location. MC recommended that the concrete slab for the pool deck entrance be completely removed and replaced. All the slabs that failed were located underneath brick pavers, decorative stamped concrete and planters, which all required waterproofing replacement.
Rodrigo Salgado, Purdue University's Charles Pankow professor of Civil Engineering, is quoted as saying that cracks can be caused by water. "There were reports that cracks had been found in the superstructure of the condominium building and possible foundation movement. Cracks may be the cause or symptom of building disease. Cracks that open up can allow water in and corrode steel reinforcement. This could lead to structural failure. However, cracking can occur when the foundation starts moving. A structure in trouble is one that has excessively wide cracks, especially in certain areas.
Salgado has been studying how to construct foundations for different types of structures for over 30 years. He is the author of The Engineering of Foundations and editor in chief of the Journal of Geotechnical and Geoenvironmental Engineering of the American Society of Civil Engineers.
Extracts from the Report:
Many of the existing pavers on the pool deck are cracked and showing moderate wear and tear from years of being exposed to the elements. The pavers do not appear to pose any hazard to the building occupants and are currently not in need of replacement. The joint sealant was observed to be beyond its useful life and are in need of complete replacement. However, the waterproofing below the Pool Deck & Entrance Drive as well as all of the planter waterproofing is beyond it useful life and therefore must all be completely removed and replaced. The failed waterproofing is causing major structural damage to the concrete structural slab below these areas. Failure to replace the waterproofing in the near future will cause the extent of the concrete deterioration to expand exponentially. MC approach to the repair of this structure is different from what is specified in contract documents in numerous aspects.
MC suggested that repairs include the removal of all pavers, decorative concrete paving and setting beds. Concrete topping slabs and waterproofing down to reinforced concrete structures were also recommended. All existing drains will have new stainless-steel dual-level drains that collect rainwater at the pavers' surface and at the waterproofing layer. This will ensure that water will not penetrate the waterproofing layer and flow freely to deck drains. This will prolong the life of the replacement waterproofing membrane. This system provides additional protection to the reinforced concrete structure, and makes future membrane replacement/repair more economical. All planters will be repaired in the same way.
On the left you will see the 18-story residential building called "87 Park". Surfside has a height limit that limits buildings to 12 stories. However, 87 Park is right across the border in Miami Beach. CNN's Casey Tolan reported that residents of Champlain complained of shaking during construction of 87 Park. By Felix Mizioznikov
The report discusses then the parking garage, slabs, and other aspects of the project.
Concrete columns, beams, walls, and walls showed a variety of cracking and spalling. Numerous large spalls were found on the topside and bottom of the entry drive ramps. Although some of the damage to concrete is minor, it must be addressed promptly. The International Concrete Repair Institute (ICRI) recommends that cracking and spalling in the garage be fixed.
MC visual observations showed that many of the garage concrete repairs were failing, resulting in concrete cracking and spalling as well as leaching of calcium carbonate. New cracks could be seen radiating from the previously repaired cracks at the Entrance/Pool Deck. As you can see from the slab's bottom, the epoxy was not installed in a continuous fashion. This is a sign of poor workmanship by the previous contractor. The injection ports weren't removed and the surfaces were not smoothed at the end of the injection. CTS has had to pay for the repainting of many cars due to leaching of calcium carbonate deposits. This will continue until repairs are made. MC believes that epoxy injections used in the past were not effective in properly repairing cracked and spalled concrete slabs. MC recommends that any Entrance/Pool deck concrete slabs in disrepair be removed and replaced completely. These slabs are all under brick pavers, decorative stamped concrete, and planters that require waterproofing replacement. All concrete slabs in the parking garage that have been repaired must be replaced according to ICRI's recommendations.
This building was to be repaired as part of the required structural recertification of buildings over 40 years old. It was with the original construction in 1981. This exemption from the 40-year recertification requirements is no longer required.
Experts believe there could be more to it. There are many theories. They include the possibility of removing a structural column over time; a sinkhole; foundation problems; and possibly other possibilities. There is a possibility that the problem could be a combination of several issues. This is not the first time that such a terrible event has occurred to a building of such age. "Seeing a building only 40 years old fall like that is amazing, and failures like that are often a combination, not necessarily one," Julio Ramierez is Purdue University's Karl H. Kettelhut Professor in Civil Engineering.
Inspections & Investigation
Although the building had been subject to extensive inspections Kenneth Direktor, a lower representative of the Champlain Towers South Condo Association, spoke with ABC News reporters. He was quoted as saying that he wasn't warned about structural problems in the building or the land on which it was built. He claimed that there was water damage to parts of the complex but that this is normal for oceanfront properties, and would not have led to the partial collapse.
Florida Governor Ron DeSantis, and Mayor Danielle Levine Cava announced that an investigation would be conducted. ABC News reports that the investigation is being led by the Miami-Dade Police Department. Although foul play is not ruled out, there has not been any evidence.
After the Florida building collapse, ASCE begins to search for answers
Ronald Burg, PE. FACI. Executive Vice President of American Concrete Institute . He released a statement on June 29, "The [ACI] feels the loss of life after the collapse of Champlain Towers South, Surfside, Florida, USA on June 24, 2021."
He also stated that ACI members have begun to form a team of experts to assist the National Institute of Standards and Technology in their investigation. The ACI committee 133 will oversee their work on disaster reconnaissance. These teams will be focusing on concrete construction and collapse.
Further details regarding the investigation will be available as they become available.
The area seems to have taken proactive steps to protect its structures. Victor Oquendo, an ABC News reporter reports that all buildings older than 40 years old and with more than four stories are being inspected. In Miami Beach alone, more than 500 buildings are under inspection. One building has been notified to block access to four balconies.
What You Can Do To Help
The American Red Cross and Miami Mayor have both announced that they have all the supplies and donations that volunteers need. Instead, donations are encouraged. There are many funds available: